A.G Smith Funeral Directors, along with its sister company
Bakers Funeral Services
Services (based in Danbury, near Chelmsford, Essex) are independent Funeral Directors. As independent Funeral Directors, we enjoy more flexibility to enable us to personalise your funeral and offer competitive funeral packages.
Having been arranging funerals within our local community since 1912, we benefit from having our own dedicated private chapel of rest.
We are a member of the National Association of Funeral Directors (NAFD) and the National Society of Allied and Independent Funeral Directors (SAIF).
Our team has many years' experience of arranging personal funerals within our local community and will always provide impartial, sympathetic advice at the time you most need it.
A.G.Smith take pride in supporting our local community – sometimes through projects we set up, or simply through sponsorship and providing a helping hand. You can keep up-to-date with these projects and activities by visiting our Local Community page and by liking our Facebook page!
Find out more about our sister company Bakers Funeral Services visit www.bakersfunerals.co.uk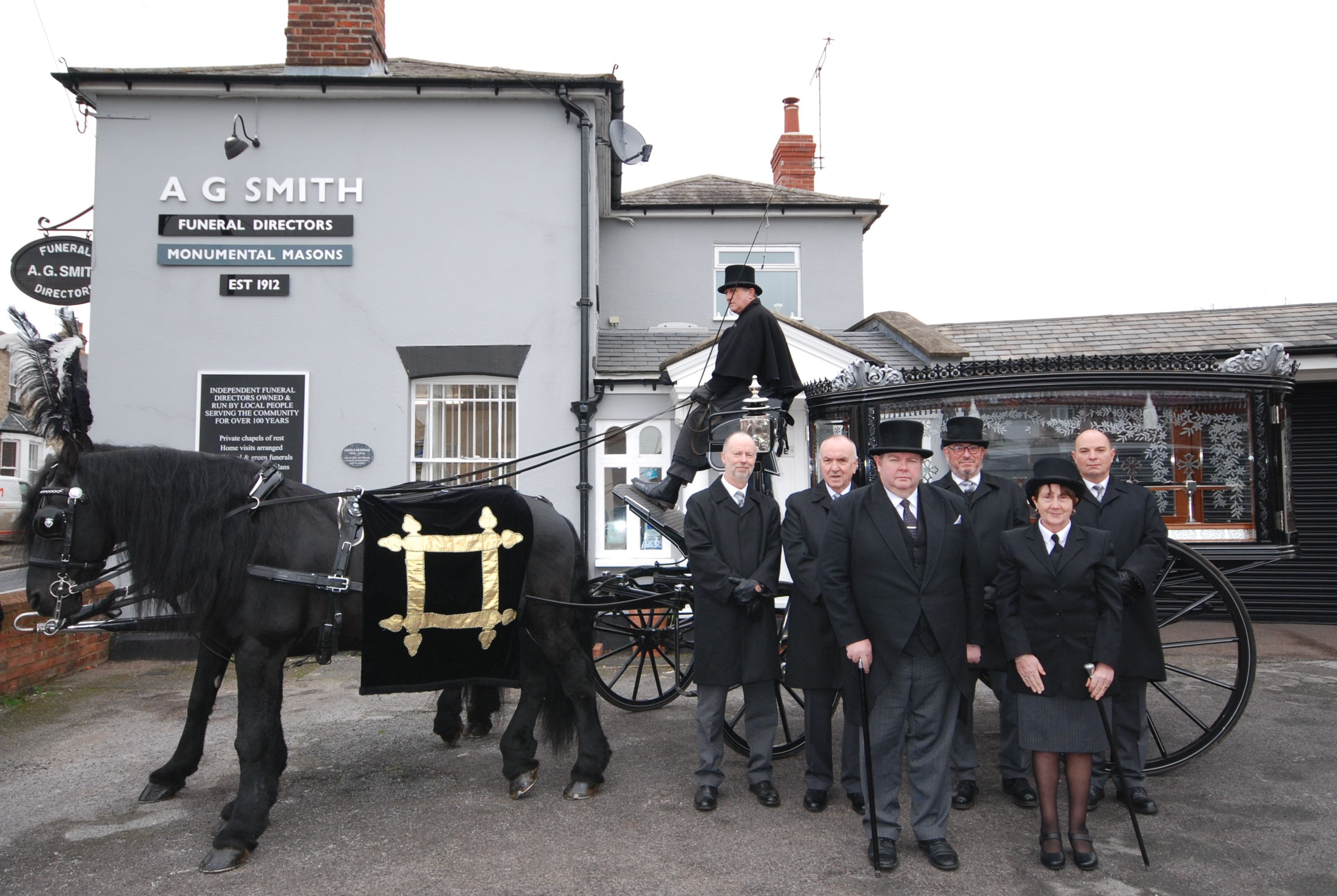 Testimonials
Mr A – Great Totham
Thank you for the way that A.G. Smith conducted the funeral of my wife. From the initial meeting that I had with Jack, through to the ceremony with Julian it was perfect. You supplied exactly what my wife wanted and all who attended agreed that it was superbly carried out. At our first meeting you explained all the options and supplied the funeral we wanted at a very reasonable cost, you saved me a lot of stress and worry.
Mrs J – Maldon
To everyone who was involved in taking care of R's funeral - Thank you for doing such a fantastic job. Especially to Olivia for having the patience of a saint and Tony for his reassurance at the funeral.
Mr B – Maldon
On behalf of my brothers and me, I would like to express our thanks to all your staff who have been involved with the arrangements for my mothers funeral yesterday. In particular I would personally like to thank yourself and Tony. Everything went without a hitch.
Mrs B – Maldon
A big thank you to you, Tony, Olivia and all the staff who helped us with mum. It all went perfectly and we were very pleased with everything. We appreciate your kindness and support during a difficult time.
Mr S – Maldon
I would like to thank you both from all the family for a beautiful service for my late mother. We appreciate your help, advice and kind words throughout.
Mr T – Maldon
I just wanted to say a big thank you to you and all the team for the way you organised and carried out everything for Dad's funeral last Thursday. Your service throughout was exceptional, and for that we cannot thank you enough.
Mrs H – Maldon
Thank you all so much for the wonderful send off for my Husband yesterday. Everything was perfect and all the staff were most caring. Shelley was Brilliant, and arranged the most amazing ceremony, so warm and friendly. Thank you all for your professionalism.
Mrs S – Maldon
Having already conveyed my verbal thanks to Tony for such a beautiful service and arrangement, I am writing to thank you all one more time for the kind and caring attention during such a difficult time. Olivia was most helpful in supporting Carol through the process of making the arrangements, and Tony displayed a very personal kindness on the day. I especially want to thank Kate Millner, our celebrant, who carried out my wishes exactly as wanted.
Mrs R – Maylandsea
I write to thank you and your team for arranging our darling Chris' funeral with such care and sensitivity and so perfectly. It was a sad day for all of us on Wednesday and quite an ordeal but we couldn't have wished for a more perfect service and fitting tribute to celebrate Chris' life. Paul Southern was so kind and caring. As indeed were you to accommodate all our queries and worries and make everything run so smoothly. You have been wonderful during our days of need and sadness , guiding us and arranging everything so efficiently. On behalf of myself, Jo and Sara and their families, I would like to thank you for everything.
Mrs G – Maldon
I would like to say a big thank you. You and your team were absolutely brilliant and looked amazing. You gave us just enough sympathy without making us cry and just enough laughs to still be respectful. Thank you so much for making it go so well.
Mr R – South Woodham Ferrers
Thank you very much for all you did to help send my Mum on her way last week. Everything went very smoothly and we couldn't have wished for anything to be any different.
Mrs D – Chelmsford
My Sister and I would like to say a very big thank to everyone at A.G Smith for your help. The memorial is lovely and we are both really pleased with it.
Mr C – Maldon
I and my family thank you for dealing with this for us in such an excellent manner, and for your kindness towards us all.
Mr M – Little Wigborough
I am very grateful for all your help in arranging my father's funeral. It all went so smoothly and was the very fitting send-off he would have wished. A number of people, including myself, commented that it was the perfect funeral and one of the "best" they had attended. Please give my heartfelt thanks to all those involved.
Mr and Mrs L – Maldon
We feel that we must write to you to express our grateful thanks for your considerate and sympathetic help to organise our nans funeral. Your approach and advice at this delicate time was appreciated.
Mrs T – Maldon
Thank you for all the kindness and help you showed us. I don't know how we would have managed without you. Everything was done for us allowing us to deal with our sadness.
Ms R – Heybridge
Thank you for looking after all our funeral arrangements. Nothing was too much for you and I appreciate everything you did for my family behind the scenes.